Foreign trade is a signal of economic development.It is an inevitable requirement for economic development to maintain steady growth in foreign trade.Over the past ten years,the Hangzhou business system has adhered to the concepts of peace,development,cooperation,and win-win situation.It takes opportunities from free trade agreements such as RCEP in strict accordance with the general idea of"expanding increment,preventing reduction and strengthening guarantee",and supports foreign trade enterprises to ensure order,production and implementation to stabilize the foreign trade industry chain supply chain.In addition,it cultivates new models and growth points for foreign trade actively expand imports and delivers high scores in foreign trade.
An Increase in Both the Quality and Quantity of Key Indicators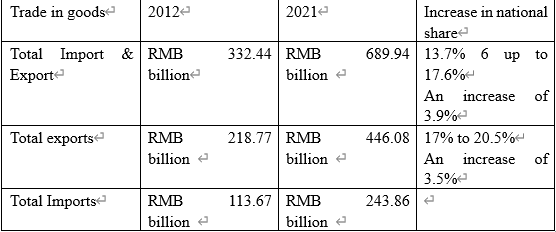 Make every effort to create five landmark achievements
I.1st trade financing model of"credit insurance+ guarantee"in China
In 2020,it pioneered the"credit+ guarantee"trade financing model in China and set up the"Hangzhou Credit",a financing product,which was promoted by the General Office of the State Council.By the end of 2021,a total of RMB 880 million of credit had been granted to 129 small and medium-sized foreign trade enterprises and RMB 370 million of loans had been made.
II.The first model of"1 online exhibition for 1 country"in China
In 2020,the"1 online exhibition for 1 country"model in China was innovated to create an overseas Hangzhou exhibition platform,which was promoted by the General Office of the State Council.Currently,INTERNATIONAL CITY HANGZHOU has successfully held a series of comprehensive foreign trade exhibitions of the China Trade Expo in the form of a digital+entity in 10 countries along the BRI.
All exhibitions have been certified by UFI(Union of International Fairs),with a total area of 180,000 m2,more than 7,500 booths and more than 3,600 exhibitors.The exhibition in the United Arab Emirates,with more than 2,400 booths,is currently the largest overseas exhibition in China.Over 200 online exhibitions had been held by the end of 2021,with over 7,500 enterprises/times from 25 provinces and municipalities participating,and a turnover of US$807 million.
In 2022,it pioneered"exhibition+charter flight"to explore the RCEP market.
III.Explore multimodal transportation by sea,river and railway
It is to help enterprises cope with international logistics difficulties.A strategic cooperation agreement was signed with the Zhejiang Seaport Group in 2021.Both parties jointly promote the container multimodal transportation system at Ningbo Zhoushan Port.There are currently 4 Sea-River and Sea-Rail multimodal transportation ports,including the Dongzhou Port in Fuyang,an inland river transportation port,the Bailutang Railway Station in Xiaoshan and Hangzhoubei Railway Station,a railway transportation port.
IV.Cultivate import trade for innovation demonstration areas
In 2020,Hangzhou Comprehensive Bonded Zone was approved as Zhejiang Provincial Import Trade Promotion Innovation Demonstration Zone.Hangzhou Comprehensive Bonded Zone takes advantage of the three platforms of imported meat inspection field,bio-medical quarantine and zone&port linkage,and supports processing and manufacturing enterprises in the zone to introduce pure R&D design,testing and maintenance projects,to create five centers of"processing&manufacturing,R&D design,testing&maintenance,logistics allocation,sales service"etc.Advantages such as comprehensive bonded zone,cross-border e-commerce comprehensive pilot zone,eWTP public service platform demonstration zone,and Pilot Free Trade Zone are used to create a"1st cross-border trade zone,1st-class comprehensive bonded zone,and 1st digital trade zone".
V.Make efforts to create key import platforms
So far,11 enterprises have been awarded key import platforms in Zhejiang Province.Domestic enterprises are promoted to improve production efficiency and strengthen brand building via the establishment of key import platforms in Zhejiang,to improve quality and efficiency on the supply side and further stimulate the vitality of the domestic consumer market.
[Statement] The article is the author's independent view and does not represent the position of this website.